It was such a fantastic moment being at the Goethe Institut yesterday between 7pm and 8pm! As usual, the multi-award young Ghanaian poet, Spoken word artiste & creative got into his magical element:
Indeed! Goethe Abansuro with Oswald Okaitei was an evening of thrills. It presented a poetry trilogy which presented different forms of spoken word acts—dramatic, behind the mic ex-tempo performance and reading. With a very beautiful theatrical set up and on point lighting effect, the hour-long event ran in a 'very-audience-loving' three phases: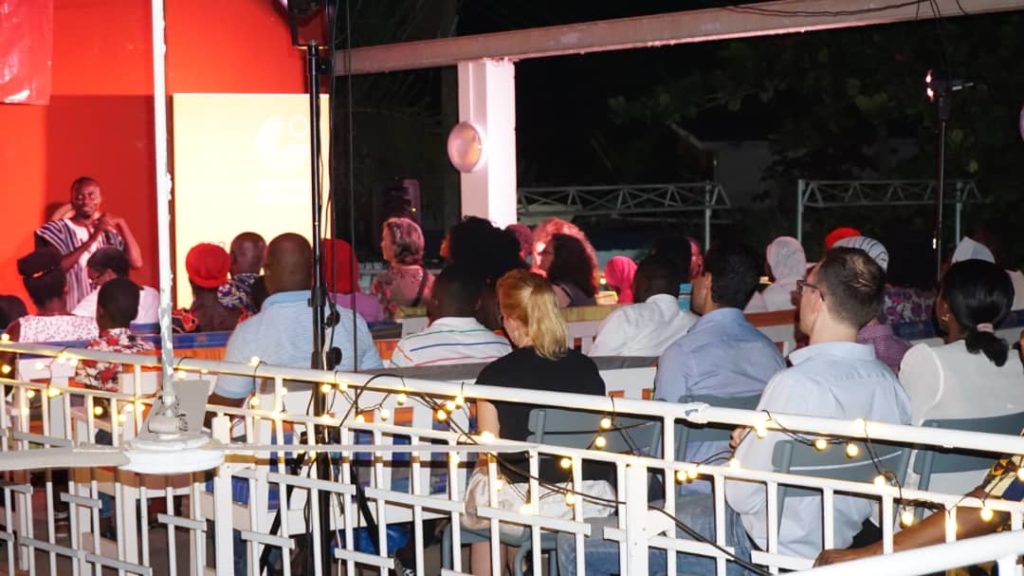 Phase 1—
A brief spoken word act: dramatic presentation of different poems stringed together into one story. The theme of the act was in resonance with the commemoration of the International Year of Return. Here, Oswald conceptualised different poems by different renowned Ghanaian poets to set into context the pre colonial days of Africa , the loss of the African cultural values due to western invasion and the promise of hope for all Africans.
It featured poetry works of:
Kofi Awoonor, Atukwei Okai, Kofi Anyidoho, Mawuli Adzei, Lade Wosornu, Kwesi Brew & Oswald Okaitei himself *. Other featured artistes in this act were two brilliant girls (Euodia Naa Asheley Atramm and Regina Asante) and the girls from Achievers Ghana organisation. The act was supported by Emmanuel Okine on the percussion and Abotreh on the acoustic guitar. The Technical aspect of the show was ran by Mr. Adom and James Lamer.
Phase II—
This session hosted Oswald in solo performances— Akello
It was an exploration of love; lost love by the poet and crave for the return of the good old days with old lover. It ended with a "connect with audience" performance; where Oswald asked for the name of an audience , Awam, & performed for her in a piece titled Ohemaa it's Valentine!
Phase 3:
It was a moment of Poetry readings and ex-tempo performances by Oswald which ended with a tribute poem—DEAR WIND—to African great poets and a celebration of African poetry. This came soon after an electrifying 'ode to poetry' performance dubbed I AM AS I AM!
The evening, which should be one of the best of the Goethe Abansuro, brought to bare the artistic prowess of Oswald Okaitei as a poet, Spoken word artiste, creator and a creative director. He took the platform to explore 'the art of Spoken word ' in an astounding style and to the admiration of all.
The audience for the evening comprised adults, Youth and children of different races—Africans, Europeans and Asians. Among them were Mrs Matilda Amissah Arthur (former 2nd Lady of the Republic of Ghana), Prof. Lade Wosornu (Retired Surgeon & astute Ghanaian poet & essayist) and Dr. Mawuli Adzei (poet, author and senior lecturer at the English Department of the University of Ghana).
Goethe Abansuro is a programme by the Goethe Institut in Accra, Ghana meant to create a platform young Ghanaian for artistes to present the creative pieces to the world.
Get real time update about this post categories directly on your device, subscribe now.