The Vice president of the Student Representatives Council (SRC) of the Kwame Nkrumah University of Science and Technology (KNUST), Enoch Pagato Kwarteng, has revealed that security personnel at the KNUST beat students and locked them up in cells at the least opportunity.
In a reaction to the unrest that occurred Monday October 22 between students and campus security on Happy FM's 'Epa Hoa Daben' show he said ''This is not the first time the campus-based security personnel have brutalised students. "they do that all the time and lock them up in a stinking cell with no proper ventilation or a place to study and what happened on Friday was the last straw that broke the camel's back.''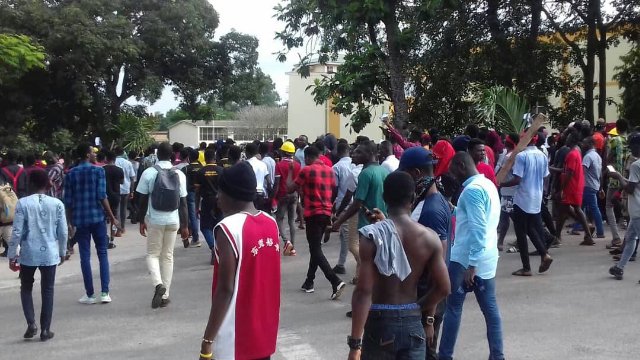 He however, stated that the SRC leadership does not condone violence of any form or nature. "When we had exhausted all the democratic channels of resolving our grievances, we decided to go on a peaceful demonstration. We went through the needed clearance only for the security men to start firing guns and the student body also retaliated by throwing stones that led to the disturbances on campus. We don't condone violence but school authorities have disregarded our opinions for far too long," he said
''As student leadership, we tried to salvage the situation but the pent up anger incited students to act in the manner they did," he added.
However, the school has been shut down indefinitely pending the amicable resolution of the issues and ensure the safety of students.
By: Bridget Mensah