Lesotho is aiming to make money from the booming medicinal marijuana industry, but the BBC's Vumani Mkhize says the southern African nation already has an unheralded illicit trade in the drug for recreational use.
Green dust swirls around Mampho Thulo as she uses her hands to scoop dried marijuana leaves from a massive heap on the floor of her home into a big linen bag.
She has been cultivating the prized crop in her scenic village of Mapoteng for as long as she can remember.
Seventy kilometres (43 miles) north-east of the capital, Maseru, her land lies in a lush valley surrounded by the mountains that the country is well known for.
It is in this breath-taking scenery that people have been illicitly growing marijuana for recreational use for decades.
The high altitude combined with fertile soils, untainted by pesticides, enables growers to produce a high-quality crop, valued all over the world.
Closer to the capital, ranks of workers operate in more laboratory-like conditions in greenhouses to produce legal medicinal marijuana, as the country tries to cash in on its booming demand.
Last year, Lesotho became the first African country to legalise the cultivation of marijuana for medicinal purposes, spawning a new sector in a country where the economy struggles to create employment opportunities.
But these two worlds are unlikely to meet, as the small-scale farmer cannot afford the infrastructure and licensing costs that the legal trade requires.
'At the mercy of smugglers'
Nevertheless for Ms Thulo, who has five children, marijuana is a valuable cash crop.
"This is how we earn a living… [as] the few jobs that are available are for educated people. So we rely on marijuana because we don't have an education," she told the BBC.
Despite the lifting of the restriction on growing medicinal marijuana, what Ms Thulo does – growing it for recreational drug use – is still illegal.
The threat of arrest does not deter the 48-year-old.
"Yes I know it's illegal to plant marijuana," she concedes.
But with a note of defiance in her voice she adds, "My children are in school because of marijuana. When I sell some, I'm then able to pay school fees."
She has become accustomed to the occasional police raid, which usually results in the authorities confiscating some of her crop.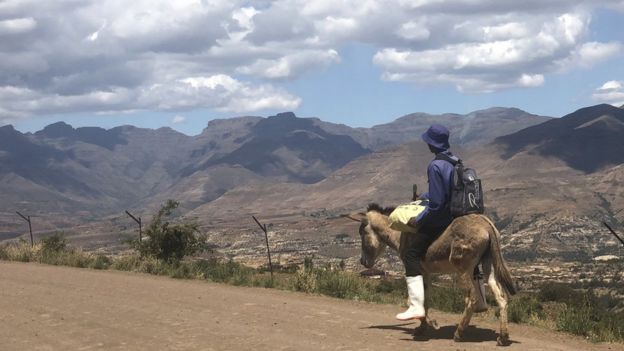 The inaccessibility of some of Ms Thulo's land, perched on steep mountain slopes, ensures that it is not all taken.
When it comes to selling, she is at the mercy of the smugglers who, she complains, offer only a fraction of what it is worth.
"They are the ones who set the price, because they know we are desperate.
"The buyer will say I will take $36 [for a 50kg sack]. I'm hungry, I don't have food, the house is empty. I'll usually take it for that amount."
Africa's marijuana pioneer
The new medicinal marijuana industry is set to dwarf the money that the illicit small-scale farmers earn.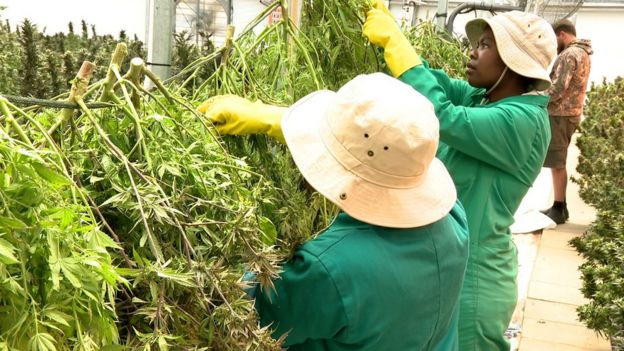 Globally, medicinal marijuana is big business.
The market for legal marijuana is set to be worth $146bn (£114bn) a year by 2025 with medicinal marijuana set to make up more than two-thirds of that, according to consultants Grand View Research.
As the first mover on the continent, Lesotho aims to capitalise on its green bounty by encouraging international investment not only in cultivation but also processing.
"We want to export finished products. So the plan is to cultivate and manufacture pharmaceutical products, nutritional products, cosmetics, and extraction of active pharmaceutical ingredients," says Masello Sello, legal adviser at the health ministry, the department responsible for issuing licences.
Lesotho's entry into the medicinal marijuana market has encouraged other countries to get involved. Zimbabwe has also legalised its cultivation and a number of other African governments are considering it as well.
In South Africa, the Constitutional Court legalised the growing and smoking of marijuana for personal consumption in a landmark ruling earlier this year.
But what about small-holder farmers?
Fruit farmer Mothiba Thamae was excited about potentially expanding his business through growing medicinal marijuana on his farm. But the $10,000 growing licence has put him off the idea.
"Since the government has legalised marijuana in Lesotho, we thought that maybe on a certain plot we can plant marijuana in order to diversify what we are producing, but we noticed that it's difficult to get a licence for people like us because the licence is expensive," Mr Thamae told the BBC.
The government has broken down marijuana licences into different categories ranging from the main operating license, to growing, research and transportation. But these licenses are too expensive for the ordinary farmer.
For the time being Ms Thulo will continue growing her illicit crop and she does not know anything about the medicinal business.
"This is all I know," she chuckles as she finishes packing her giant bag of marijuana.
"There's no other way I could earn a living."