The maiden edition of The Youth President's Cup came off at the Accra Academy Park last Saturday and it was the texters and callers of the biggest opposition party, National Democratic Congress (NDC) who emerged victorious in both the men and women categories.
The Youth President's Cup is an initiative of the host of "Epa Hoa Daben" on Happy FM, Kwame Afrifa–Mensah, who is populary known as "The Youth President".
The motive behind this according to the adroit broadcaster is to defuse the seeming tensions between supporters of the two major political parties, the National Democratic Congress (NDC) and the New Patriotic Party (NPP) and promote peace while still having divergent views on political issues among the supporters of these parties.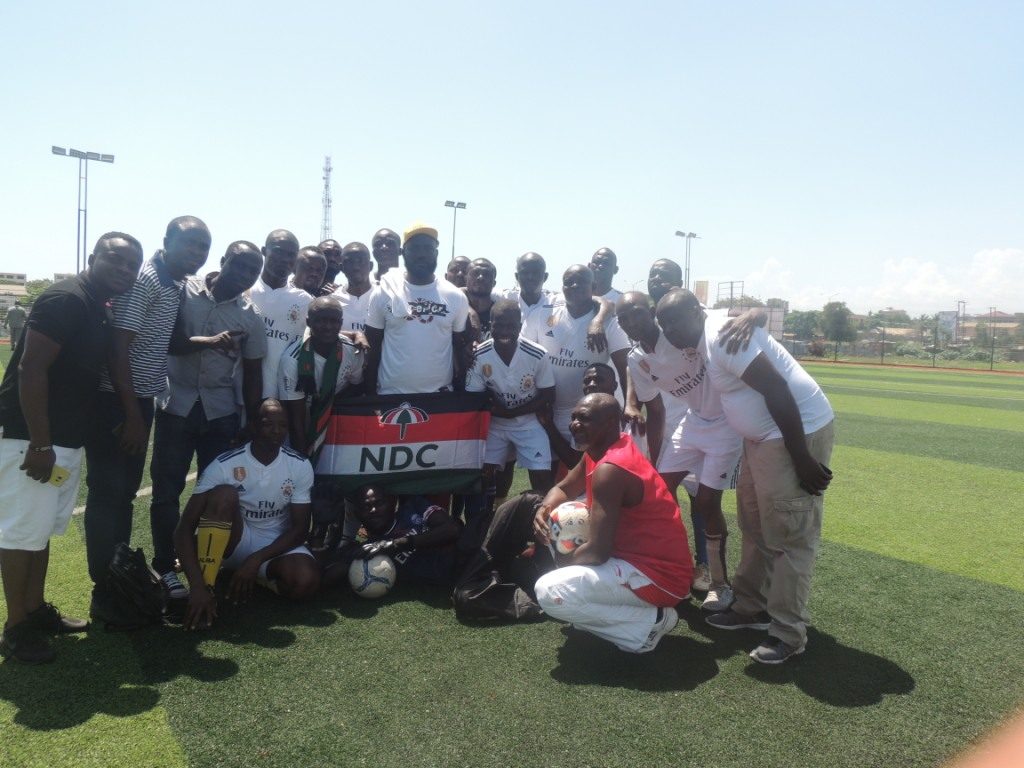 The event started on time with the female teams of both sides climbing unto the pitch. After an hour of playing under the scorching sun, none of the teams was able to put the ball behind the net. The lottery of penalty kicks was now upon us and it was the texters and callers of NDC who showed more accuracy in front of goal by scoring their first four kicks. The 'Loyal Ladies' of the NPP however scored their first two and missed the last two which confirmed their opponents as winners.
In the men's category, the NPP started well giving the defense and goal keeper of their opponents a tough time. Tactical changes were made by the NDC including substituting their goalkeeper. The changes seemed to have worked as the game became game balanced afterwards.
The NDC scored in the early stages of the second half and that gave them the winners' spot. This meant the NDC had done a double over the ruling parties team.
National Organizer of the NPP Mr. Sammy Awuku was in attendance and he rewarded the winning teams with a cash prize of GH¢1,000 each.
Also in attendance was the Youth Organizer of the NPP, Nana Boakye popular known as Nana B.
On the part of the NDC, the National Women's Organizer designate, Dr. Hannah Bissiw sent a representative. One of her newly-elected deputies Abigel Elorm Mensah Sosu was also present.
In a nutshell, the event was a success and Mr. Afrifa Mensah, has promised to make it an annual event to be held the first Saturday of November.
Supporters of the winning team of the day, the NDC, have said that the results of the football match will be replicated in the 2020 general election.
Only time will tell if that will be the case.
By: Ibrahim Zibrilla