On the 6 February 1969 (Exactly 50 years ago) Accra Hearts of Oak were held to a 2-2 drawn game by a Pele-led Santos FC of Brazil in an international friendly at the Accra Sports Stadium.
Striker Abeka Ankrah opened the scoring midway in the game but Edson Arantes do Nascimento 'Pele' struck to pull the visitors level before the break.
Not in the mood to be outdone, Ghana's own "Pele" Amusa Gbadamoshie, restored Hearts' lead in the second half, but midfielder Edu earned the great Brazilian side a deserving draw.
Despite the draw, Hearts still wrote their names in the history books by holding the giants from Brazil to a drawn game.
Santos FC had gone on a tour of Africa in 1969, led by the player, who would become the greatest ever to play the beautiful game, Pele. The Brazilian giants played 9 games on the continent. They won five, drew three and lost just one, and scored and conceded 19 and 11 goals respectively.
Read this Match Report
Source: Daily Graphic, Feb 7, 1969
Story by, Ken Bediako.
Not much was seen of the legendary Pele in the match-heralded club international match between the fabulous Santos Club of Brazil and Ghana's Premier Club, Accra Hearts of Oak at Accra Stadium yesterday.
And when the shrill whistle of referee major George Lamptey sounded, ending the game in a 2-2 tie, fans began to ask themselves whether the match deserves all the money spent on it, not to mention the fantastic high gate fees charged.
To say Pele is not a good player will be an underestimation. For the few occasions that he struck, fans saw in him a demon of a player.
His shooting and heading were a menace enough. And on no occasion did he give a wrong pass. But the man of the match was left winger Edu, whose superlative dribbling rendered the Hearts defence ragged.
On the whole, it was a match between skill and determination. The visitors showed plenty of skill showing superiority in every move they made.
But Hearts compensated their lack of finesse with hard unorthodox soccer, always carrying the game to their opponents. They succeeded in taking the lead on eeach occasion but for one or two unfortunate decisions by the referee, Hearts would have contrary to expectation, won the day.
Hearts were 1-0 up in the 27th minute when Abeka Ankrah found the net with a brilliant shot which could have made even the great Pele envious.
This goal was a morale booster for Hearts and two minutes later, opportunist goal soccer George Alhassan just missed the post by inches.
The visitors, playing as if there was nothing at stake stuck to their short pass-system. Suddenly, Pele struck and in a matter of moments, the entire Hearts defence was mesmerized. A typical Pele pass went straight to right winger Maria but his goal-bound cracking shot was brilliantly saved by Joe Adjei. This really looked like an obvious goal.
Five minutes later, Pele received a back pass and with a close range left-footer, pulled even for his side. There was some element of doubt about the goal, for linesman Hulede has been signaling that left winger Edu was completely offside.
The score stood 1-1 at half time.
Santos were in control of the game after the recess but as they repeatedly failed to find the net through over elaboration in the vital goal area Hearts soon took the initiative.
In the 55th minute, Ghana's Pele, Amusa found the net when the he had the better part of his struggle with the goalie. Amusa was injured in this process and he remained on the touch line for five minutes.
The visitors protested against the goal but later on gave in.
Substitute player Douglas pulled even the in the 67th minute with an unseen shot.
Play was balanced from this moment, bit it was Hearts who had two narrow misses. George Alhassan actually put the ball in the net in the 67th minute but linesman Hulede who was fast becoming flag happy, ruled it offside.
Amusa missed a last minute goal which would have definitely won the day for Hearts in a match which failedd to satisfy fans, mainly because the fabulous soccer gem Pele, did not give of his best.
On this day 6 February 1958(Exactly 61 years ago) The darkest day in United's history, 23 people – including eight players and three members of the club's staff – suffered fatal injuries in the Munich Air Disaster.
The team had been travelling back from a European Cup tie against Red Star Belgrade when their aircraft stopped in Germany to refuel. The first two attempts to take off from Munich airport were aborted; following a third attempt, the plane crashed.
The eight players who perished were Geoff Bent (aged 25), Roger Byrne (28), Eddie Colman (21), Duncan Edwards (21), Mark Jones (24), David Pegg (22), Tommy Taylor (26) and Liam Whelan (22). Edwards, considered by many to be the finest player of his generation, died 15 days after the accident.
The three club officials who were killed were secretary Walter Crickmer, trainer Tom Curry and coach Bert Whalley.
Eight journalists died – Alf Clarke, Donny Davies, George Follows, Tom Jackson, Archie Ledbrooke, Henry Rose, Eric Thompson and former Manchester City goalkeeper Frank Swift.
Aircraft captain Ken Rayment, fellow crew member Tom Cable, travel agent Bela Miklos and supporter Willie Satinoff, a friend of United manager Sir Matt Busby, were also victims of the terrible tragedy.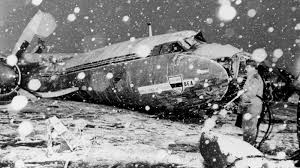 The Munich Air Disaster is an indelible part of United's history, as is Sir Matt overcoming his crash injuries to work alongside his assistant Jimmy Murphy and build another great team which won the European Cup 10 years later.
Fatalities
Crew members
Captain Kenneth "Ken" Rayment. Co-pilot. Survived but suffered multiple injuries and died in hospital five weeks later as a result of brain damage.
Tom Cable, cabin steward
Passengers
Manchester United players
Geoff Bent
Roger Byrne
Eddie Colman
Duncan Edwards (survived the crash, but died in hospital 15 days later)
Mark Jones
David Pegg
Tommy Taylor
Liam "Billy" Whelan
Manchester United staff
Walter Crickmer, club secretary
Tom Curry, trainer
Bert Whalley, chief coach
Journalists
Alf Clarke, Manchester Evening Chronicle
Donny Davies, Manchester Guardian
George Follows, Daily Herald
Tom Jackson, Manchester Evening News
Archie Ledbrooke, Daily Mirror
Henry Rose, Daily Express
Frank Swift, News of the World (also former England and Manchester City goalkeeper; died on his way to hospital)
Eric Thompson, Daily Mail
Other passengers
Bela Miklos, travel agent
Willie Satinoff, supporter, racecourse owner and close friend of Matt Busby
Survivors
Crew
Margaret Bellis, stewardess (died 1998)
Rosemary Cheverton, stewardess
George William "Bill" Rodgers, radio officer (died 1997)
Captain James Thain, pilot (died 1975)
Passengers
Manchester United players
Johnny Berry (never played again, died 1994)
Jackie Blanchflower (never played again, died 1998)
Bobby Charlton
Bill Foulkes (died 2013)
Harry Gregg
Kenny Morgans (died 2012)
Albert Scanlon (died 2009)
Dennis Viollet (died 1999)
Ray Wood (died 2002)
Manchester United staff
Matt Busby, manager (died 1994)
Journalists and photographers
Ted Ellyard, Daily Mail telegraphist (died 1964)
Peter Howard, Daily Mail photographer (died 1996)
Frank Taylor, News Chronicle reporter (died 2002)
Other passengers
Vera Lukić, the wife of a Yugoslavian diplomat, and her baby daughter, Vesna. Both passengers were saved by Harry Gregg. At the time, Vera Lukić was pregnant with her son Zoran.
Eleanor Miklos, wife of Bela Miklos Nebojša Bato Tomašević, Yugoslavian diplomat (died 2017).
By George "Alan Green' Mahamah