Agritop provides bespoke building solutions for the agricultural industry in Ghana. Our services include engineering, design ,construction and professional consultancy for all types of agriculture. Agritop uses its unique knowledge provided by our in-house and out sourced experts in order to deliver agro technology services to Ghana's farming communities. We at Agritop, take great pride in our capability to overcome the challenges we face and implement our creative solutions based on unrivalled adjustments to the local surrounding and conditions.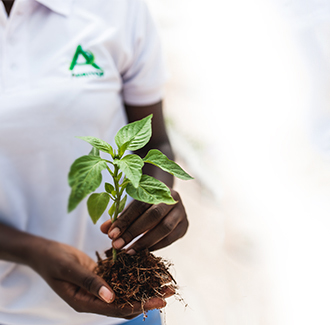 This is an exciting time of growth for Africa, and Agritop is passionate about the economic progress of Ghana as part of this expansion. Our response to the increased demand for services is to offer a sophisticated approach to the agricultural industry.
To deliver this vision for Ghana's future, and for the other African countries we serve, Agritop's mission is to become a key part of the growing farming industry, providing innovative and high-performing solutions, underpinned by reliable customer service and leading to customer peace of mind.
Agritop shares the same values as theirparent company STL Group. Service, professionalism, quality, creativity, focus and delivery are at the center of everything we do, and our people actively embrace these values through their hard work and high standards.
As highly trained agricultural experts, we never lose sight of our aim: the economic viability of Ghana through the best use of modern farming techniques.
Agritop complies with STL's service promise and has established a quality management policy and framework to deliver complete satisfaction to our customers. Our procedures are founded on our knowledge and experience which, together with input from external experts, are adapted to meet local requirements.
Customer service relies on staff morale and Agritop is committed to providing safe and pleasant working conditions for all employees. Employment and training of the local population is a legacy of which STL is very proud. Following this tradition, Agritop has an active recruitment program, through which we aim to improve the quality of life for the local population. We offer on-site training for those who are employed to work on our diverse agricultural projects and, where necessary, we liaise with industry experts to ensure we follow the latest building standards.