In the spirit of the festive season, the Headquarters of the Southern Command – a formation under the Ghana Armed Forces (GAF), has jointly held its annual End-of-Year Thanksgiving Service and the West Africa Soldier Socialization Activities (WASSA) 2018, successfully.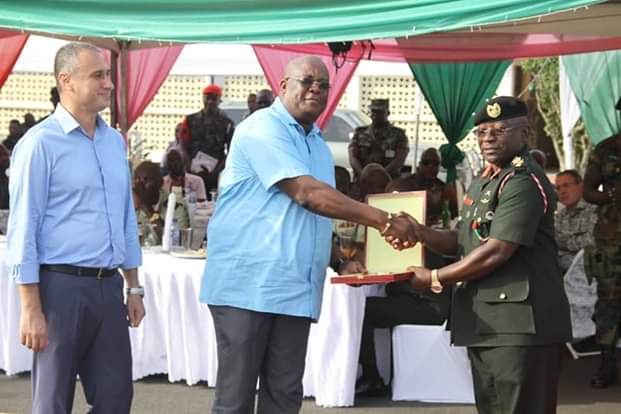 The Southern Command, affectionately labelled 'The Pride of the Army', has 8 units under it namely, First, Second and Fifth Battalions of Infantry  based in Tema, Takoradi and Burma Camp, respectively, Armoured Reconnaissance, 66 Artillery, 48 Engineer, 64 Infantry – all regiments at Burma Camp, Ho, Teshie, Asutsuare, respectively, and One Field Workshop, based at Teshie.
The Command also used the occasion to commission two completed projects – a Military Police and Quarter-Guard posts on Thursday the 6th of December, 2019.
The Command Operations Officer (COO) in a report, outlined various activities and projects undertaken over the past one-and-half years.
The training exercises included Ex Tigers' Path 2017 (which the Command is reigning champion), Ex Starlight Stretch 2017, Ex Kullum Shirri – Ex March and Shoot, Inter-Units Drill Competition, Master Commando, Inter-Command/Formation Sports Competition, Army Inter-Command/Formation Shooting Competition – Ex Thunderbolt 2018.
Although the Command was best in all the Inter-Command contests, outstanding for mention is the performance at Ex Thunderbolt where the Command swept all 15 available trophy but for the Runners-up award.
The Command also intitated and sustained an incentivising scheme to motivate officers, soldiers and Civilian Employees to bring out their professional best for the Brigade, by sending two officers and five soldiers for responsors in Kenya and the United Arab Emirates (UAE).
Special awards were also presented to Captains Martey and Mahmoud, Lance Corporals Eugenia and Bayor, who have all won for themselves traveling tickets and spending money to Kenya and the UAE.
The Command also used the occasion to present honour awards to sponsors, who variously and financially helped the Brigade in projects and also other individuals who helped to ease the burden of operations.
The predecessor of the current General Officer Commanding (GOC) the Command, who was also the Guest-of-Honour, Brigadier-General Musah Whajah (rtd), highly praised his successor, the current GOC, Brig-Gen Thomas Oppong-Peprah, for being a "very fine soldier's soldier", for the many laurels he had chalked for the Command in the space of one year of his take over.
Gen Whajah (rtd) also appealed to the corporate world to give maximum support to Brig-Gen Oppong-Peprah and his Command, as he had proven great leadership.
There has been a great transformation of the Command physically, of the asphalted square, refurbished office structures, greening of the environment, retouching of the main entrance, the eastern gate, restarting of accommodation projects which are now almost complete, routine checks of vehicles and visitation of all units, motivation for the morale of the officers and men are but a few of the works of Southern Command, under GOC Oppong-Peprah.
By Kofi Ampeah-Woode, Teshie