Troops of the Ghana Armed Forces (GAF) United Nations Mission in South Sudan (UNMISS) Ghana Battalion 7 (GHANBATT 7), currently on concentration at the Bundase Training Camp have organised a clean-up and blood donation exercise at Ningo Township and the Tema General Hospital (TGH), respectively, as part of their Civil Military Cooperation (CIMIC) activities.
The clean-up exercise, which took place on Friday, December 7, 2018, involved clearing of bushes, desilting of choked gutters, sweeping, with the assistance of the Ghana National Fire Service (GNFS) and students of the Ningo Senior Secondary School and some town folks.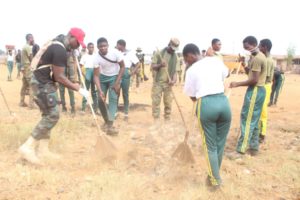 Member of Parliament (MP) for Ningo-Prampram constituency – Samuel Nartey George expressed his appreciation to the troops and all the participants involved in the exercise, commending the troops for their hardwork and their determination to serve Ghana and humanity at large, urging them to elevate the flag of Ghana when deployed in the mission area.
The Commanding Officer (CO) of UNMISS GHANBATT 7 – Lieutenant-Colonel (Lt-Col) Darkwah, expressed his pleasure to the troops and other participants for the gesture, especially, to the students for showing enthusiasm and a sense of patriotism, urging them to aim higher in life and exhibit qualities above standards in order to achieve their dreams.
Some troops of the battalion also donated blood at the Tema General Hospital, with the aim of helping to save lives, who may need it in critical times.
The head of laboratory services at the hospital, Mr Samuel Ahadzie, expressed gratitude to the soldiers for their kind support and promised to use the donations to great effect, but however, urged them to make it an annual habit of donating blood to save lives.
By Kofi Ampeah-Woode, Tema